Part 1: Pain is bad; also, it's data Social justice and feminism, like every other intellectual movement, should be about truth. They can and are and should be about other things as well – solidarity, encouragement, emotion, commitment, action – but truth must be at the center, or we will find we are fighting for, and perhaps more frighteningly, against, the wrong things. I was pained by the internet's response to Dr. Scott Aaronson's comment on his blog, detailing the pain he underwent as a self-described nerd, wholly committed (to the point of asking for castration) to never acting towards women in a way that could ever be interpreted as an assault or unwelcome advance. The worst was about what you'd expect from the worst of any group, with the multiplier of the internet and a pile-on mentality: cruel in its dismissal of Dr. Aaronson's vulnerability and pain and vicious in its unfounded attacks.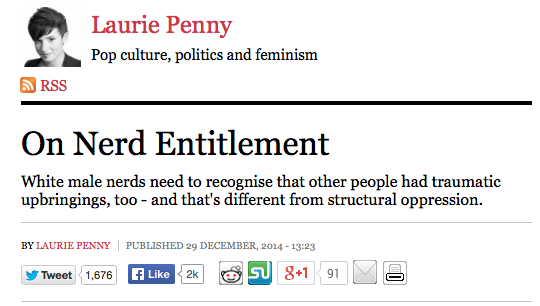 Even the article in the New Statesman by Laurie Penny, lauded in several corners for its empathy and compassion, was to me, a terrible disappointment. There are more and more whispers coming from disparate places that echo what Dr. Aaronson said. It is becoming emprically and ethically questionable to doubt that feminist messages make the lives of some men (and others attracted to women, and others period), specifically those in the nerd camp, harder, and not in a productive way. The New Statesmen piece barely addressed any of this. It acknowledged that being on the social outskirts is difficult, and then tied everything back to traditional feminist ideas by pointing out the struggles that women face, and how they are more, or harder, or more important. But to address someone expressing the pain they felt as a result of trying to take feminist ideas seriously by offering them yet more of the same is a failing, in ethics and in thinking. As Aaronson himself said in edits to his original comment:
[My comment] is not, insanely, to suggest a lack of misogyny in the modern world! To whatever extent there is misogyny, one could say that there's also "male privilege." Rather it's to suggest that, given what nerdy males have themselves had to endure in life, shaming them over their "male privilege" is a bad way to begin a conversation with them.
Not only that, but the angle was kind of a non sequitur, since Dr. Aaronson didn't bring up anything about patriarchy or privilege(1) unhelpful to me. Dr. Aaronson did seem to misunderstand  privilege, feeling like he didn't have it since his life was so hard, and that it would have been easier to be a woman or gay. He even suggested, though did not necessarily stand behind, the idea that being a shy male nerd might "have put me [Dr. Aaronson] into one of society's least privileged classes." However, while there's certainly room to engage with that misunderstanding, I saw Laurie Penny addressing primarily the question of whether Dr. Aaronson was less privileged than his female counterparts (no, and I'm glad she pointed that out) rather than the bigger question of feminism's role in making his life more difficult, and whether privilege is a useful concept in this context.  I can tell Laurie Penny was trying to do a good job, but the formulation of "being a woman means you have less privilege than a ceterus paribus man, full stop", while largely or entirely true, is incredibly common, and did not move the conversation forward. It reminded me of a Fixed Argumentation Pattern, wherein people make the same arguments in the same ways regardless of what ideas they're actually confronting.
What would I have liked to see? I would liked to have seen the kind of feminism that I and a (small? but hopefully growing? it's so hard to know) community of people adhere to, one that goes hand in hand with our goals of truth and accuracy. We attempt to utilize all of the tools of science and aspiring rationalism to collect evidence, think critically about ideological claims, and land wherever the data and best argumentation takes us, even when it's inconvenient or unpalatable. It's a feminism that is willing to use explanations of ideas in place of potentially unproductive jargon. It's a feminism that acknowledges it does not have the only useful model and the only claims to truth. It's a feminism that sees critiques of its claims as reasons to do more research and argue better (or change its mind), rather than as attacks from The Enemy. Such a feminism would have taken Dr. Aaronson's pain seriously and been more compassionate, because it would have known that he was not the enemy. (A guy who is on board with 97% of feminism (possibly more than me) is not doing a particularly good job as an enemy of feminism.) It would have asked itself, if it believed in feminism so strongly, why good ideas were leading to bad outcomes and what that meant about feminist strategy. It would have acknowledged that the growing body of confessions of people, specifically nerdy men, in pain, is data, and that data needs to be incorporated if the theory is to remain robust. Part 2: Alternate Responses: Some suggestions My first response to reading about all this was a veritable stream of consciousness of questions. In a more organized fashion, here are some thoughts I would want my feminism to explore What's going on with this pain?
Is it just that the feminist ideals of consent and respect for women's autonomy have been badly conveyed or communicated?
No doubt that this is true in some cases, since not everyone in the world is a good communicator, but is that enough to explain all of it?
Is it an issue of strategy, where we have focused on what bad consent looks like and not enough on what good men and good consent look like?
I can think of several examples of positive discussion, but perhaps they are not widespread enough, or are not being communicated well (see #1)
Are the men suffering from this simply over-scrupulous, that is, they suffer from the sense that they must achieve moral perfection and lambast themselves if they fail?
If so, this has relatively less to do with feminism. Such scrupulosity (and over scrupulosity) can be found in Effective Altruism circles and highly religious environments (where the term comes from), to name just a few. That said, Effective Altruists are at least trying to undermine that aspect of their messaging, and I am on record saying that purity, and its attendant request for perfection, is a shitty moral foundation and we should eschew it whenever possible. Feminism can and should do the same. Not least, it's worth adding, if some of the people most hurt by feminist messaging are the people trying the hardest to do good and hating themselves for not getting it right enough, something is probably going wrong. Scrupulous people are the best, let's please not make them hate themselves.
Is it an unfortunate but necessary side effect of spreading the right messages to everyone else?
Every social message engages with the tension between who it will reach and who the optimal audience is. If your social circle really needs to be more X, and so you start spreading X messages far and wide, you might be hitting people who ought or could be less X. It's possible that the optimal way to spread feminism sadly involves the pain of the more scrupulous (if we combined this with #3, someone might point out that scrupulous people are most at risk for bad effects from any message imploring people to do better).  If that's true, so be it, but arguing that the current equilibrium constructed on the base of passionate, angry, self-interested actors + the internet (i.e. Moloch's playground) is optimal, like, the actual highest point on the highest mountain of what feminism could be would take some serious work and my prior for it is somewhere around 10%.
This may also just be a question of competing access needs, in which there is no way to make a safe space for everyone, because people have different needs. Feminists might need spaces to be communally harsh and critical of injustices. Scrupulous people might need a safe haven from that kind of criticism, which will harm them more than help them. Aspiring rationalists might need a place where everything can be criticized, including feminism itself. And people at the intersections are probably going to have a hard time. In fact, this issue is evidence that they are having a hard time, and I hope this opens up the space a little.
Is there a vicious undercurrent of feminist thought and thinkers that don't take seriously the pain of people they consider privileged?
Many seem to think so, some of whom are dedicated to battling feminism in ways just as if not more unproductive and obnoxious than what they're criticizing, and some of whom may have more of a point. It only takes looks at some of the ways that feminists are themselves attacked by other feminists to feel uneasy about some of the discourse. And of course this may just be a human problem, not a feminism problem, though feminism might still want to clean house. It's also worth pointing out that feminism and social justice sometimes argue for the reasonableness of uncivil argumentation. My natural inclination to steelman means that that doesn't end the conversation for me, but it does suggestively point out a problem.
Part 3: The Future I wanted to write a response to the Laurie Penny article as soon as I was asked what I thought and ended up writing a four paragraph Facebook comment. But I wanted to write this particular piece, wherein I have tried to outline the feminism that makes sense to me and bring others on board for an additional reason. In the comments of a blog post discussing these events, I saw a call to action, asking for feminists to speak up and demonstrate their allegiance to compassion and evidence and self-criticism. It's anyone's guess how necessary that is; I don't feel that all the feminism that has come before me has been uncommitted to truth or evidence or rationality, and it is utterly ridiculous to believe that I am starting or leading something completely new. All of us are thoroughly indebted to the people who have been doing feminist and other justice-related work all along, but there's also an evolving need for a different kind of space. Something is happening, and I want to be part of the group that stays a part of feminism, that remains embedded in the same issues and fights, but also changes and adapts more readily, using tools of thinking that already exist. My feminism will be accurate, or I can't do it anymore.
---
(1) I was wrong here. I focused on the parts of Dr. Aaronson's posts that I found most important, that I thought were most important to respond to, and forgot about the others. Laurie Penny oviously responded more to the privilege aspects, which I still argue is unhelpful, but is a reasonable choice. Mea Culpa. Possibly related posts
Pictures of cute animals make things better